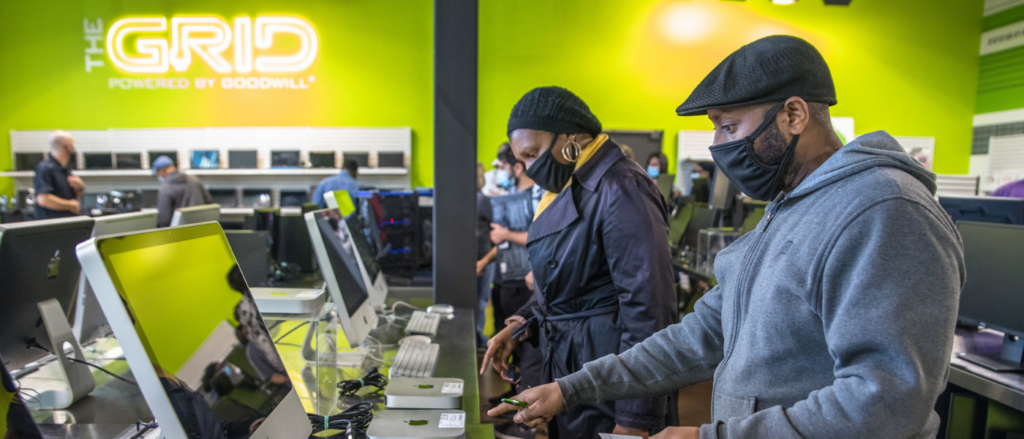 SHOP THE GRID
When you shop at The GRID: Powered by Goodwill, you'll find just about anything you can imagine that relates to electronics and technology – at Goodwill prices! Goodwill's electronics store, The GRID, carries an unbeatable selection of new, refurbished and donated products, including desktop and laptop computers, games and gaming consoles, printers, flat-screen televisions, audio equipment, phone and tablet accessories, and more. Check out our unbeatable prices both in store and online at Goodwill's e-commerce site and eBay.
COMPUTERS & LAPTOPS
Discover an array of refurbished computers and laptops in sleek designs that deliver the same fast performance as new computers, but at more affordable prices. Shop and compare by features like operating system, hard drive size, memory and more.
VIDEO GAMES & CONSOLES
The GRID carries a long list of retro games and consoles from Odyssey, Coleco and classic Nintendo to Xbox, Playstation and GameCube. Our stock changes daily, so stop by often to check out our selection.
PARTS & ACCESSORIES
We carry a wide selection of hard-to-find internal and external parts including cards, cables, adapters and input devices, accessories such as keyboards, mice and surge protectors, and other peripherals such as printers, speakers, monitors, memory and hard drives.